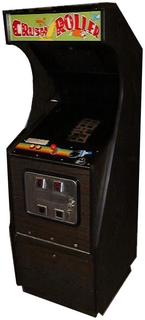 Having a MAME Cabinet is great. Putting the legality issues aside for now, this is the best video game system I have ever owned. The reason is simple: unlimited games on a controller correct system.
For instance, I have owned Ms. Pac-Man on about every gaming system there is. Atari, NES, SNES, Xbox, PS1-2-3, Xbox 360, Wii… you name it, I have owned a copy of Ms. Pac-Man on it. But the biggest problem with each and every one of those has been the controller.
Growing up, I played a lot of arcade games, especially my favorites of the day: Pac-Man, Ms. Pac-Man, BurgerTime, Donkey Kong, Dig Dug, and many others. All had one thing in common: the joystick. Playing those same games on, say, the NES control pad sucked. And while the Atari 2600 had a joystick, it sucked as well. (Too spongy.) These games demanded a proper joystick.
For years, I would occasionally look in at the MAME stuff, and even dabbled in it from time to time. But playing these games on a computer with a mouse, keyboard, or even a game controller was no better than on the NES. The only difference, really, was that in MAME, these games were the arcade games, not a port like the console games were. They were copied from the actual ROMs, so they were nearly identical.
(Side note: not all MAME ROMs are 100% accurate. In fact, most are not. There are times when an arcade used a special chip, or special hardware, and there is no real way to emulate those things on the computer. Still and all, the people who do work on these ROMs are amazing people and do wonderful work.)
So having an arcade means I can finally play games the way they were meant to be: with a real joystick!
Since my first post, dated mid-October, things have already changed with my MAME arcade. First, I have a dedicated monitor/screen for it. Second, said screen is on a wall-mount that allows me to rotate the screen vertically. Most arcade games were built with the monitor in the vertical position, so it was long, not wide. TVs all just the opposite. So being able to rotate the TV and set the MAME games to rotate 90-degrees brings an even truer arcade experience than before.
While I am not done "messing" with my arcade (I may never be), I spend most of my time with it playing games. A great feature on my MAME software is it allows me to tag a game as a Favorite, and that is a very selective list for me. With one button push, I bring up my favorite games, so I spend less time searching through over 10,000 games just to play a few rounds of BurgerTime. I initially added all the games I was most excited to play, of course, and now spend quite a bit of my time trying out some of the lesser known games. But finding those other fun games can be a challenge, and that's where the internet comes in.
Just today, in fact, I was searching YouTube for information on an arcade game (I forget which one now) and in the suggested linked videos, I saw one that caught my eye. It was a three minute video showcasing a game I had never seen, or at least don't remember. It was called Crush Roller, and it had some maze-like Pac-Man gameplay to it. Interesting! A quick look through my MAME library showed that I had Crush Roller.
What a fun game! And it made my Favorites list! Instead of eating dots to clear a maze, you are a paint brush and your job is to paint the maze. There are two… I don't know what they are. (I'm not going to Google it to find out) They chase you around the maze. So far, I can (sometimes) get to the third maze, but no further. The bad guys in this game are SMART! Level 1 is not so bad, but after that, man these things are brutal! I am embedding the video below for you to see what it's like. I love this game, but HATE the sound and music, so I play on mute:-)
So much fun…
*A reader let me know that this game was also called "Make Trax" by Williams Electronics, Inc. I looked at the screen shots from that game and yes, it is the same game.